Bosch launches smart ultra-low power IMU BMI270 optimized for wearables
Includes intuitive activity, context and gesture recognition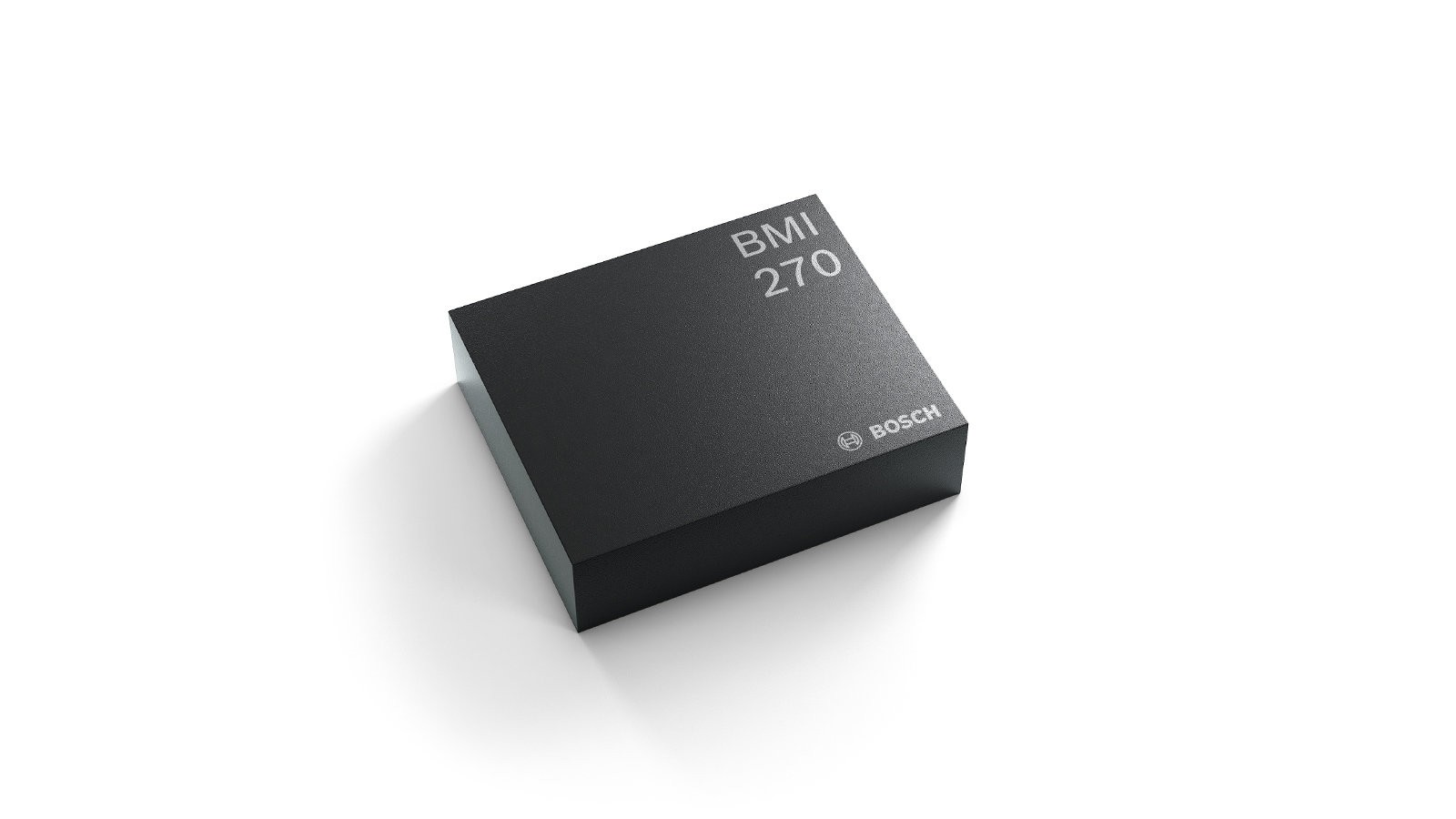 Newest member of Bosch's next-generation BMI260 family of IMUs
Optimized for wearable and hearable applications
Strongly increased system battery life
Available with context and activity recognition or gesture recognition
Bosch at CES: booth 14020
At CES® in Las Vegas, Nevada, Bosch Sensortec announced the BMI270, an ultra-low power smart Inertial Measurement Unit (IMU) specifically targeted at wearable applications. It offers a strongly improved accelerometer offset and sensitivity performance, enabled by the newest Bosch MEMS process technology.
The BMI270 is the latest member of Bosch Sensortec's BMI260 family of IMUs. It includes intuitive gesture, context and activity recognition with an integrated plug-and-play step counter, which is specially optimized for accurate step counting in wrist-worn devices. The IMU is also well suited for other types of wearable devices, such as hearables, smart clothes, smart shoes, smart glasses and ankle bands.
As an ultra-low power IMU, the BMI270 significantly extends system battery life by handling multiple activity tracking, step counting and gesture recognition functions independently of the main system processor, without having to wake it up. These processor-independent functions include tasks such as sending an interrupt when a certain number of steps is reached, or geofencing to activate GPS when the user stands up and starts walking.
Powerful, accurate gesture and activity recognition features therefore run in the ultra-low power domain, with current consumption of just 30 μA. This noticeably reduces power consumption and users can benefit from extended battery charging intervals.
Two versions: gesture and context/activity
Bosch Sensortec's smart IMU is available in two application-specific versions. The 'gesture' version, which detects gestures including flick in/out, arm up/down, and wrist tilt. This version is designed for Wear OS by Google™, ensuring a user-friendly and feature-rich experience for end users. The 'context and activity' version has advanced features for recognizing context activity and activity change, for example standing, walking or being in a vehicle.
The BMI270 is designed to provide maximum flexibility to customers. Manufacturers not only benefit from the excellent sensor performance of the IMU but can also customize it based on the specific use case with gesture and context/activity features.
Building on the latest Bosch MEMS process technology, the BMI270 combines the automotive-proven gyroscope technology with a significantly improved accelerometer. The sensor includes a 2 kB FIFO.
Bosch's unique and motionless Component Retrimming (CRT) feature provides built-in gyroscope self-calibration without a rotation stimulus, which saves OEMs valuable time and costs during testing and manufacturing. The embedded plug and play features of the BMI270 help to substantially cut time to market.
The BMI270 measures only 2.5 x 3.0 x 0.8 mm³, and is pin-to-pin compatible with the BMI160, BMI260, BMI261 and BMI263.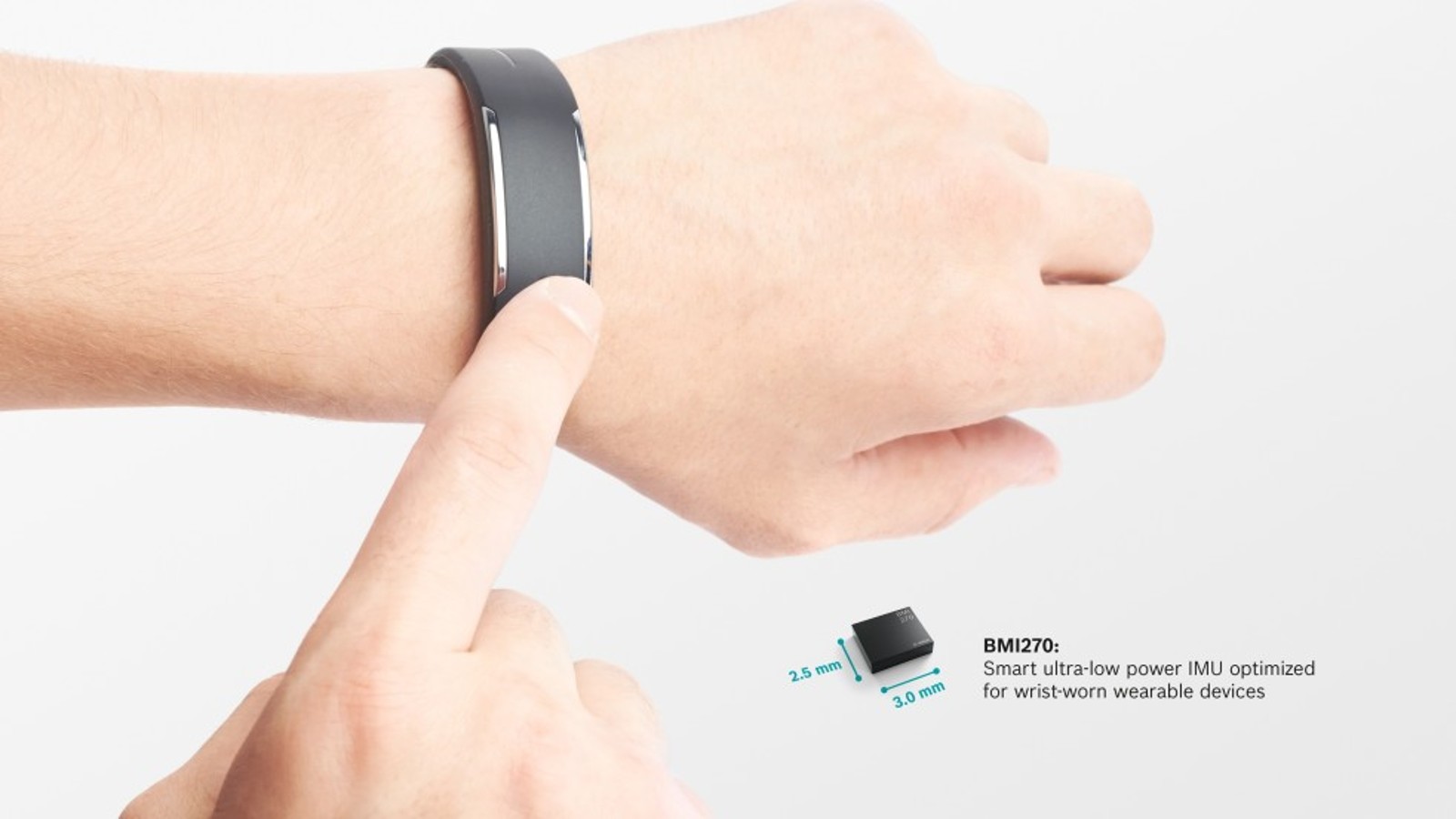 The BMI270 will be available for distribution in the second quarter 2019.
Wear OS by Google is a trademark of Google LLC.
Read more about BMI270