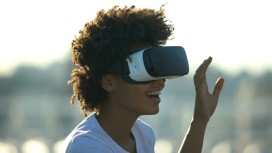 Applications & solutions
Have you ever wondered how your smartphone stabilizes your pictures? How a smartwatch understands whether you are standing still, walking or running? How a drone can stabilize its altitude? Or how your vacuum cleaner robot finds its way through your apartment? All these applications and many more are enabled by invisible sensing solutions from Bosch Sensortec that are integrated into your everyday devices. MEMS sensors endow objects with sensory perceptions and teach electronic systems how to see, feel and smell.

Explore how our sensing solutions can improve your well-being and lifestyle – again and again, every day!


The BMA456
hearable accelerometer is the industry's only accelerometer with optimized hearable features integrated in one sensor.
The BMA400
accelerometer from Bosch Sensortec consumes 10 times less power than comparable products.
2018
launch of the world's first position tracking smart sensor BHI160BP
2016
launch of the world's smallest absolute orientation sensor BMX160
2015
launch of the world's first gas sensor combining pressure, humidity, temperature and air quality BME680