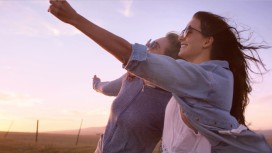 For a better life: Bosch Sensortec sensing solutions
Bosch Sensortec develops and markets a wide portfolio of MEMS sensors and solutions for applications in smartphones, tablets, wearables, AR/VR devices, drones, robots, smart home and the Internet of Things. Striving to meet the demanding requirements of the consumer electronics market, we provide best-in-class sensing solutions in terms of customer focus, quality and reliability, performance, sustainability and competitiveness.
The BMA456
hearable accelerometer is the industry's only accelerometer with optimized hearable features integrated in one sensor.
The BMA400
accelerometer from Bosch Sensortec consumes 10 times less power than comparable products.
2018
launch of the world's first position tracking smart sensor BHI160BP
2016
launch of the world's smallest absolute orientation sensor BMX160
2015
launch of the world's first gas sensor combining pressure, humidity, temperature and air quality BME680