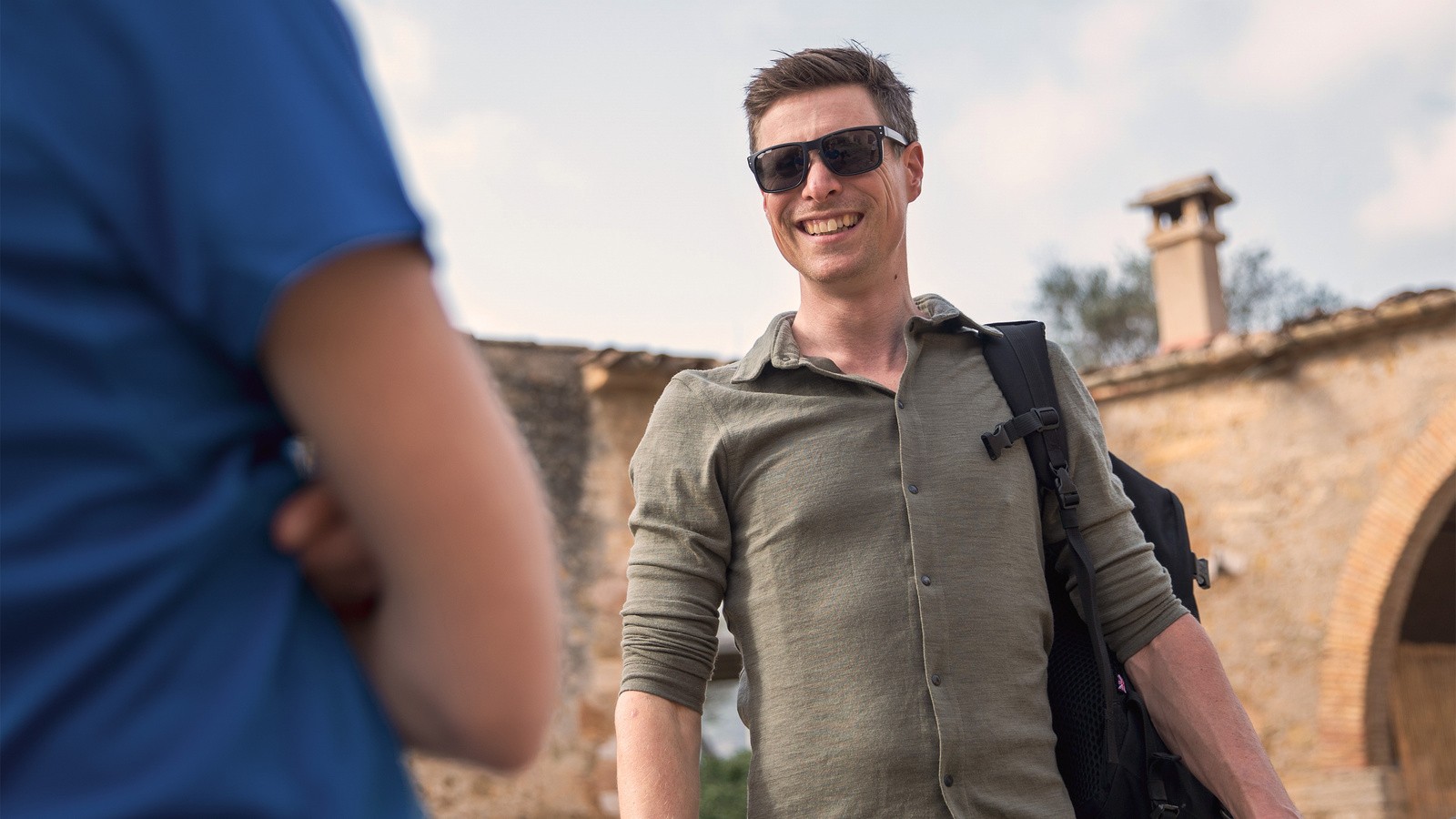 Extreme athlete Till Schenk is busy preparing for his biggest adventure to date. Every week he covers hundreds of kilometers by bike and on foot in Girona, Spain. Join Till on his ride to see what his training would look like with smartglasses featuring Bosch Sensortec's Light Drive technology, and the all-day benefits they would bring.
Keeping vitals and training metrics in view
Till Schenk is an internationally acclaimed extreme athlete and trains 30 hours every week. He is currently in the northeastern Catalonian town of Girona for his training. With a pair of smartglasses sporting Bosch Sensortec's Light Drive, Till could easily track vitals, training plans, and important aspects of the route ahead. The ultra-cyclist insists on having all data in view during his training sessions, especially vital signs such as his pulse. "It's extremely important for me to keep an eye on my heart rate so I can properly adjust training intensity." Smartglasses would beam all key information straight to his eyes, including vital signs, route information, the occasional text message, and valuable training metrics such as Till's measure of pedaling power referred to as a cyclist's "wattage."
On his training route in the Rocacorba, Girona's landmark mountain, the gradients are sometimes steeper than 9 percent. This brings even an extreme athlete like Till to his limits. His smartglasses could show him his heartbeat, watt output, and could even compare values and progress to his training goals. The brightness would adjust automatically so that the images remain clearly visible even in direct sunlight. All of these functions would help Till maintain his concentration and contextual awareness.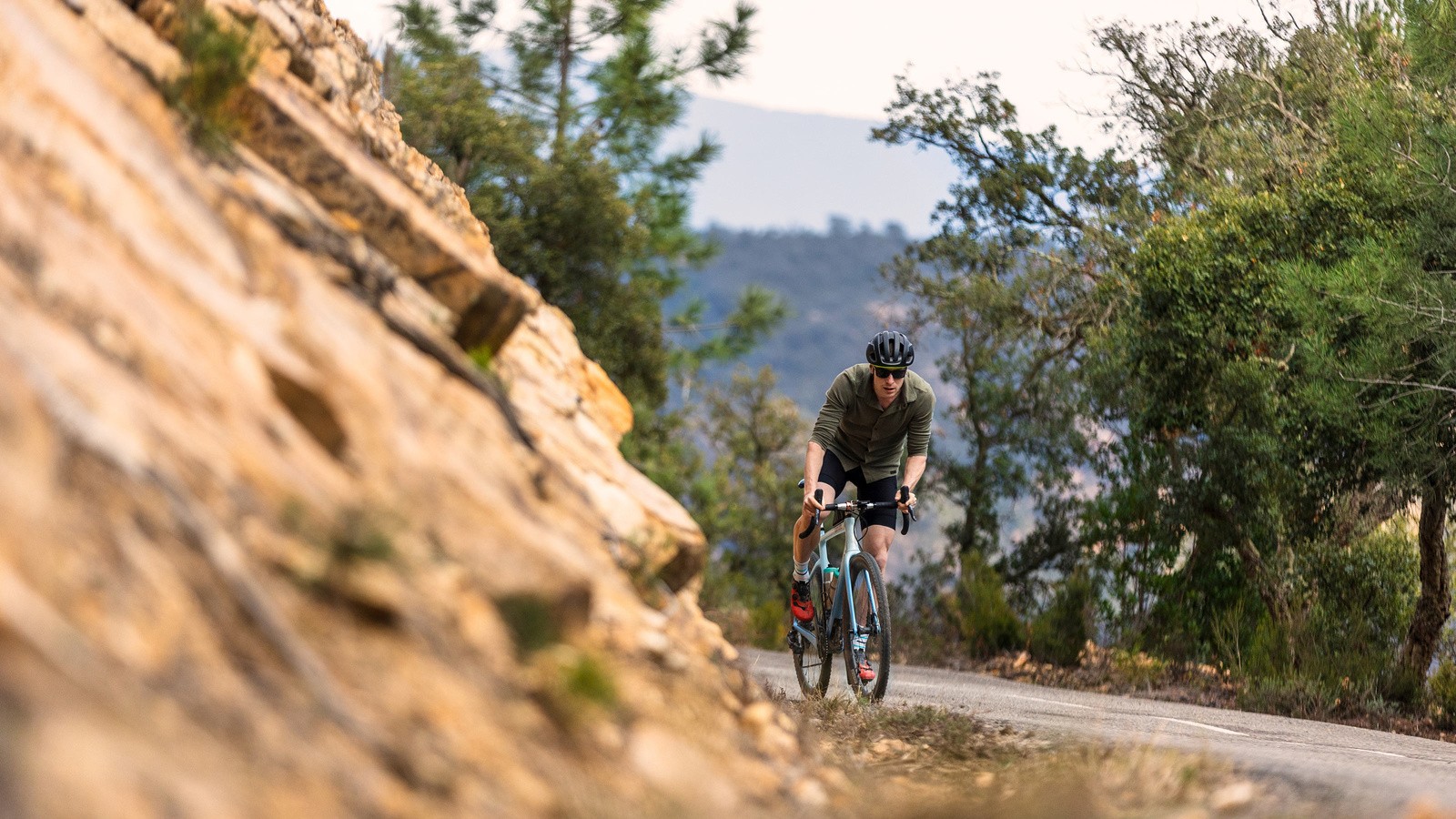 Light Drive technology – the right solution for all-day wearable smartglasses
Bosch Sensortec's Smartglasses Light Drive technology is an all-in-one smartglasses system that provides a complete, ready-to-use solution for lighter, more stylish smartglasses. With a compact design, the solution from Bosch Sensortec is the smallest and lightest in development. The approach is fundamentally different from comparable products. Rather than overdelivering to all-day smartglasses users with elaborate features seen in binocular augmented / mixed reality eyewear, the Light Drive technology executes a simple task through simple means, displaying push notifications from connected devices. Thanks to its diminutive size and weight, the Bosch Light Drive finally makes it possible to meet the weight constraints for sport and casual all-day use, including corrective lenses. With the power of simple notifications, Till's vital signs and training metrics are just the beginning.
Light on weight, heavy on value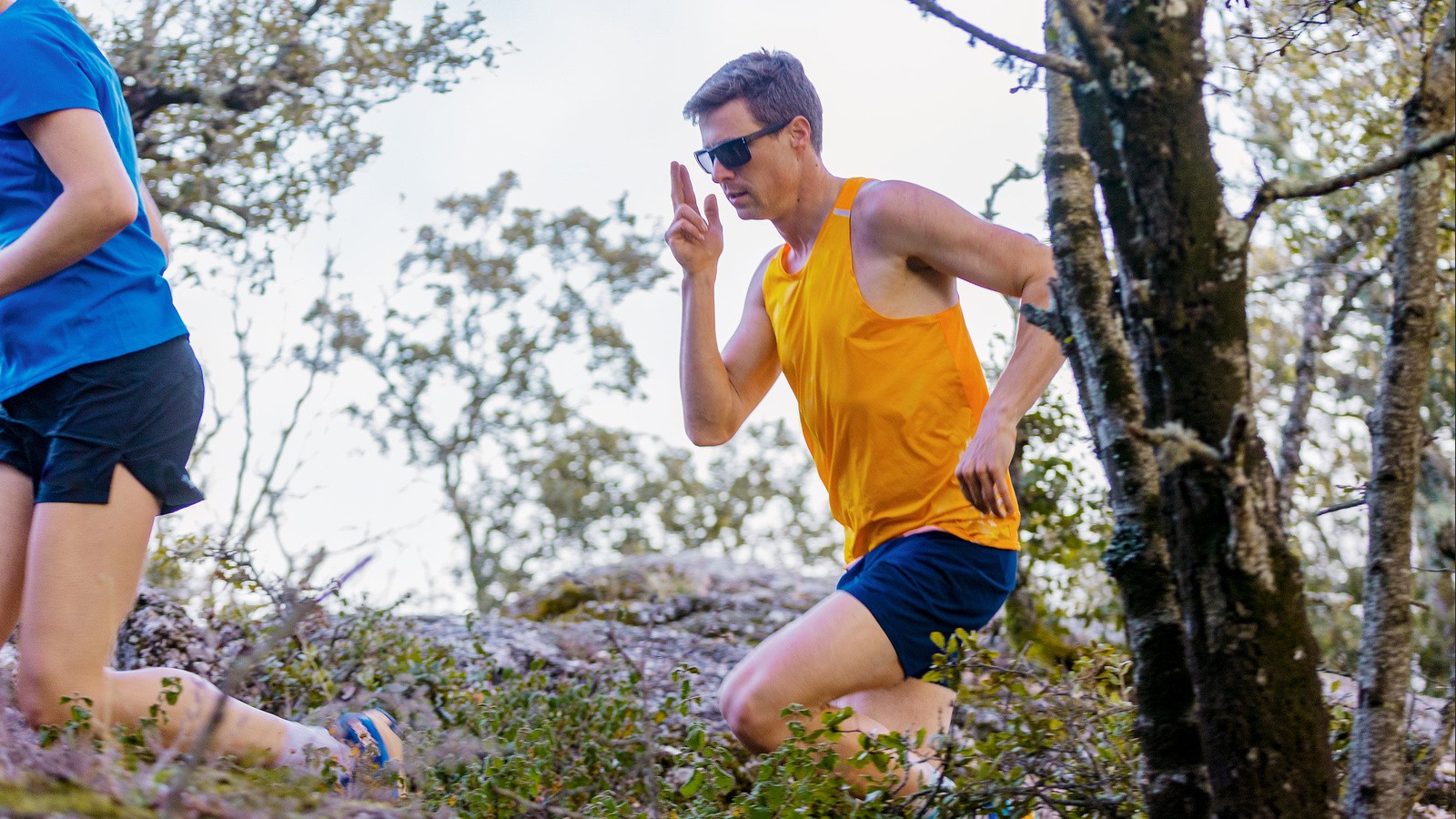 The Bosch Sensortec Light Drive technology enables a sub 40 gram monocular smartglasses solution with a host of additional user benefits. The Light Drive technology is compatible with curved and corrective lenses, ensuring access across all users. The Light Drive system is the smallest comparable solution, focused on a minimum integration size and minimal weight to make an all-day device possible. Imagine a 5 gram module, with less than 10mm temple height. The size of the final integration enables stylish smartglasses suitable for daily use, including regular sunglasses, a popular option among those with contact lens. The content is vibrantly colorful, bright, high contrast, and visible only to the user for maximum privacy at all times.
Optionally, enriched with sensing solutions from Bosch Sensortec
Usability is in your hands with Bosch Sensortec's standard-setting sensor solutions. For example, device input could include simply tapping the temple (or "arm") of the frames. This type of sensor enables intuitive tactile user interactions like changing songs or completing a checklist while wearing gloves that would make buttons or a touch-screen more difficult to use. Smartglasses could be enriched by several other optional sensor solutions. Examples include the BHI260 smart sensor for complex motion recognition, the BMP388 barometric pressure sensor for altitude awareness in any environment, and the BMM150 magnetometer for absolute direction sensing.
The BMP388 is a very small, precise, low power barometric pressure sensor. It delivers outstanding altitude stabilization in drones. In addition, the BMP388 provides a very flexible, one-size-fits-all solution for increasing the accuracy of navigation and fitness applications in wearables and smart homes.

BMM150 is a low-power and low-noise 3-axis digital geomagnetic sensor to be used in eCompass applications. The 12-pin wafer level chip scale package with a footprint of only 1.56 x 1.56mm² and 0.66mm height provides highest design flexibility to the developer of mobile devices. Applications like virtual reality or gaming on mobile devices such as smartphones or tablets require 9-axis inertial sensing including magnetic heading information.

The BHI260AB is an ultra-low power smart sensor consisting of Bosch Sensortec's new, custom programmable 32-bit microcontroller (Fuser2), a state-of-the-art 6-axis IMU and a powerful software framework containing pre-installed sensor fusion and other sensor processing software and it is specifically designed to enable always-on motion sensing.
Inside the Light Drive there is a (MOEMS) micro-opto-electro-mechanical system of mirrors that directs beams of coherent light to the eye. How? This MOEMS scanning array of mirrors, built into the temple, relays image data to the lens in the glasses, where the lens includes an optically transparent holographic film. This advanced film is virtually invisible to users and observers, while efficiently redirecting the images towards the user's eye, painting a picture of light onto the user's vision. These images are centered on the retina, communicating directly from connected apps such as heart rate monitors, watt output measurements, or other push-based notifications from a connected device like a smartphone.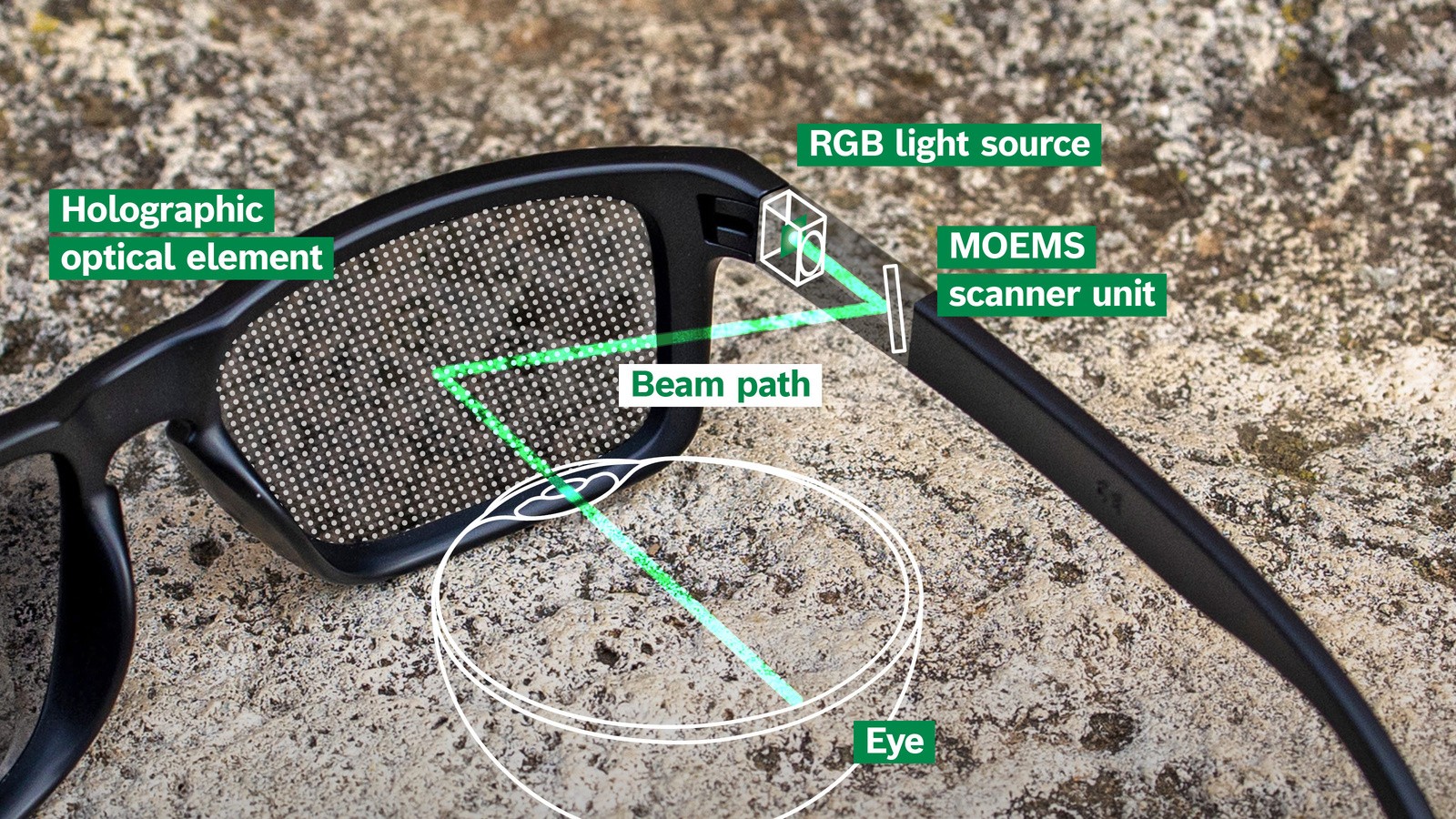 End-to-end solution for endless usability
In fact, Till would enjoy many advantages before, during, and after his intense trainings with Bosch Sensortec's Light Drive technology. The Light Drive solution for smartglasses paves the way for a day without digital fatigue. The system delivers the perfect visual balance of just-in-time hands-free information, presented in a minimalist format that keeps attention on the world and the smartphone in the pocket. All-day use examples include navigation, calls, notifications such as alarms and calendar reminders, plus pings from the whole range of apps and messaging platforms. Everyday note-based information like to-do, assembly instructions, and shopping checklists become conveniently clear. Whether you're navigating life, shopping, or even cooking, the smartglasses Light Drive technology from Bosch Sensortec will help you stay focused and connected.