Making a splash: Bosch launches a robust barometric pressure sensor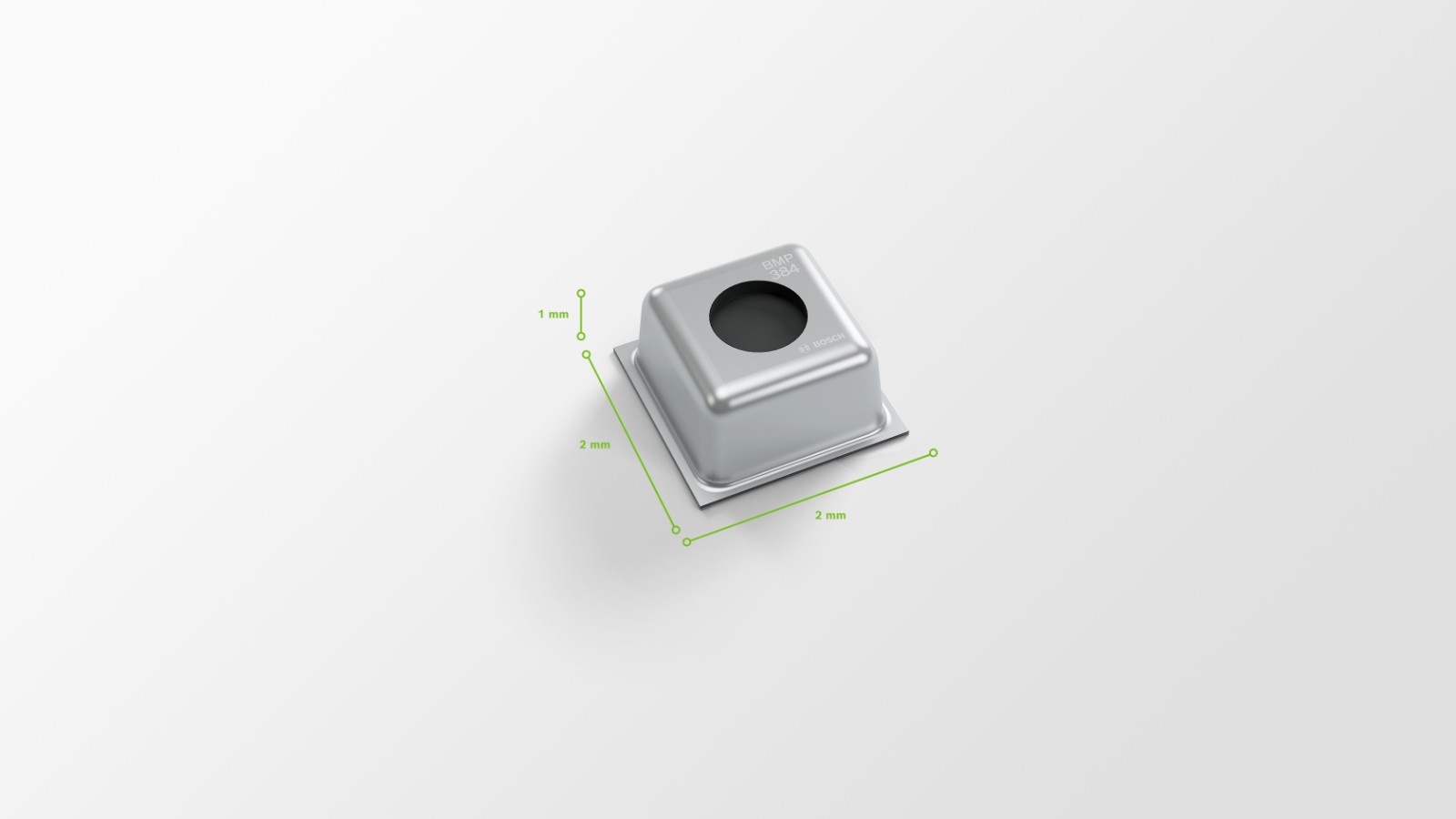 Accurate sensor in compact gel package for wearables, consumer and industrial applications
Robust package design offers high level of protection against the ingression of water and other contaminants
Smallest package of any comparable barometric pressure sensor, making it easy to design into wearables and other portable products
Excellent performance, accuracy and reliability over the sensor's lifetime
Wearable fitness trackers are rapidly growing in popularity. A barometric pressure sensor enables the wearable to detect changes in the user's elevation, for example when walking up or down stairs, for calculating the number of calories that the user is burning. Until now, many barometric pressure sensors have not been resistant against liquids and thus it has been challenging to integrate them into waterproof products. To address this issue, Bosch Sensortec developed the BMP384, a robust barometric pressure sensor delivering market-leading accuracy in a compact package.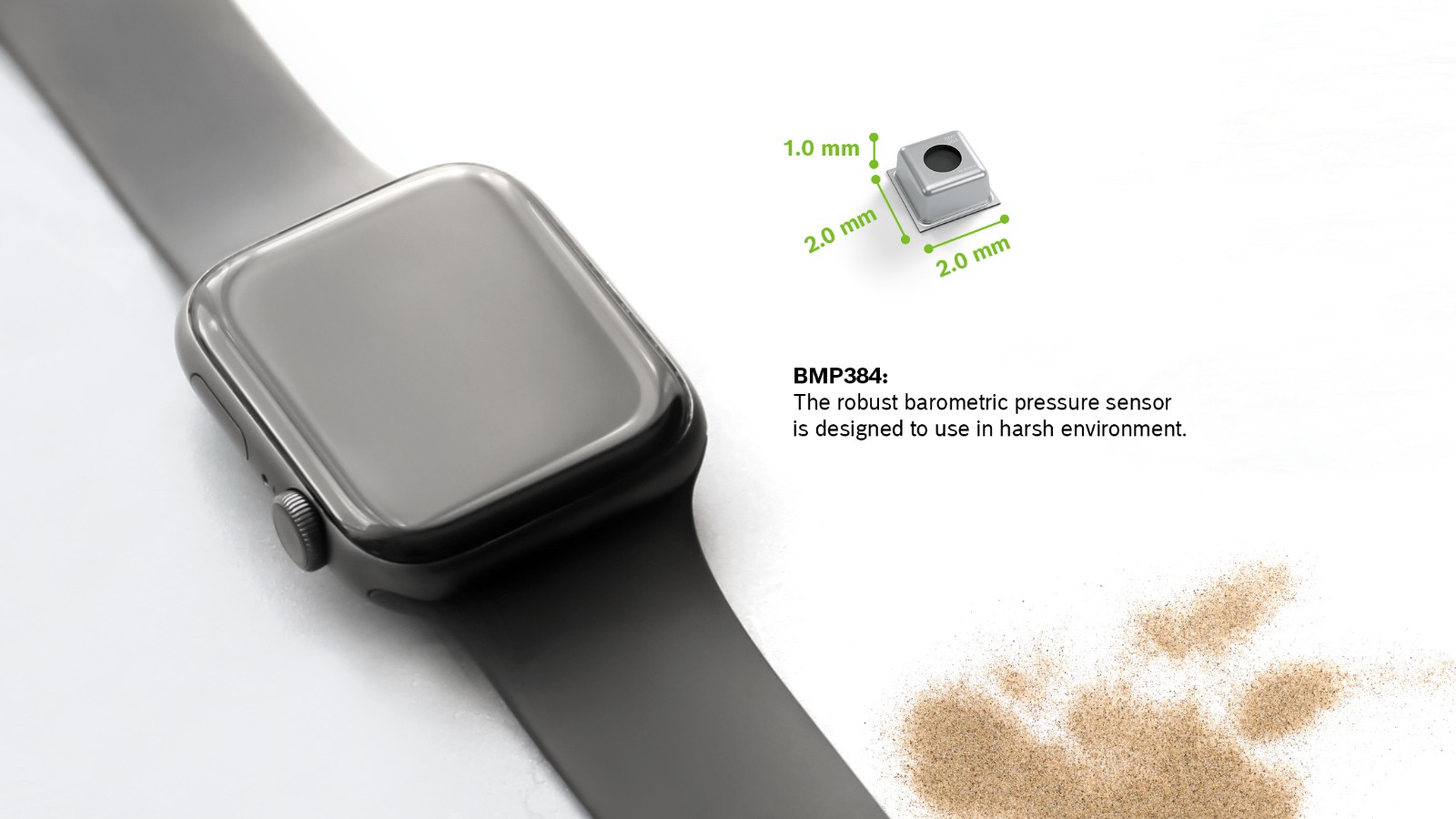 The high performance and low power consumption of the BMP384 makes it ideal for wearables, home appliances and industrial applications in harsh environments. The new sensor's innovative package design utilizes a special gel to protect it against the ingression of mainly water, but also to other liquids and dust in combination with the required integration concept. It is now straightforward for OEMs to integrate a barometric sensor into products requiring high robustness.
"Bosch has applied its many years of experience in creating reliable sensors for harsh environments into the design of the BMP384," says Dr. Stefan Finkbeiner, CEO at Bosch Sensortec. "Until now, engineers have faced significant challenges when designing barometric pressure sensors into applications involving water or other contaminants, frequently seeing performance degradation over the final product's lifetime. This new sensor makes design simpler and provides peace of mind."
The new BMP384 barometric pressure sensor is ideally suited for wearables like smartwatches and fitness trackers in activities like swimming and running. The special gel inside the package provides protection against common liquids such as salt water, rain, sweat and sunscreen. Its compact size of just 2.0 x 2.0 x 1mm3 enables seamless integration even into extremely small devices.
In addition to wearables, the sensor will be valuable in home appliances, for example water level detection in washing machines for ensuring accurate water volume measurement and flooding prevention. The BMP384 is very durable, making it ideal for dusty environments in use cases such as clog detection in vacuum cleaners.
Despite its ruggedness, the BMP384 does not compromise on performance. It provides a relative accuracy of +/- 9 Pa, an absolute accuracy of +/- 50 Pa, and a temperature coefficient offset (TCO) of +/- 1.0 Pa/K. Importantly, with a power consumption of just 3.2mA at 1Hz data rate (typical), the sensor will not drain the batteries of portable devices.
Availability:
The BMP384 is available now.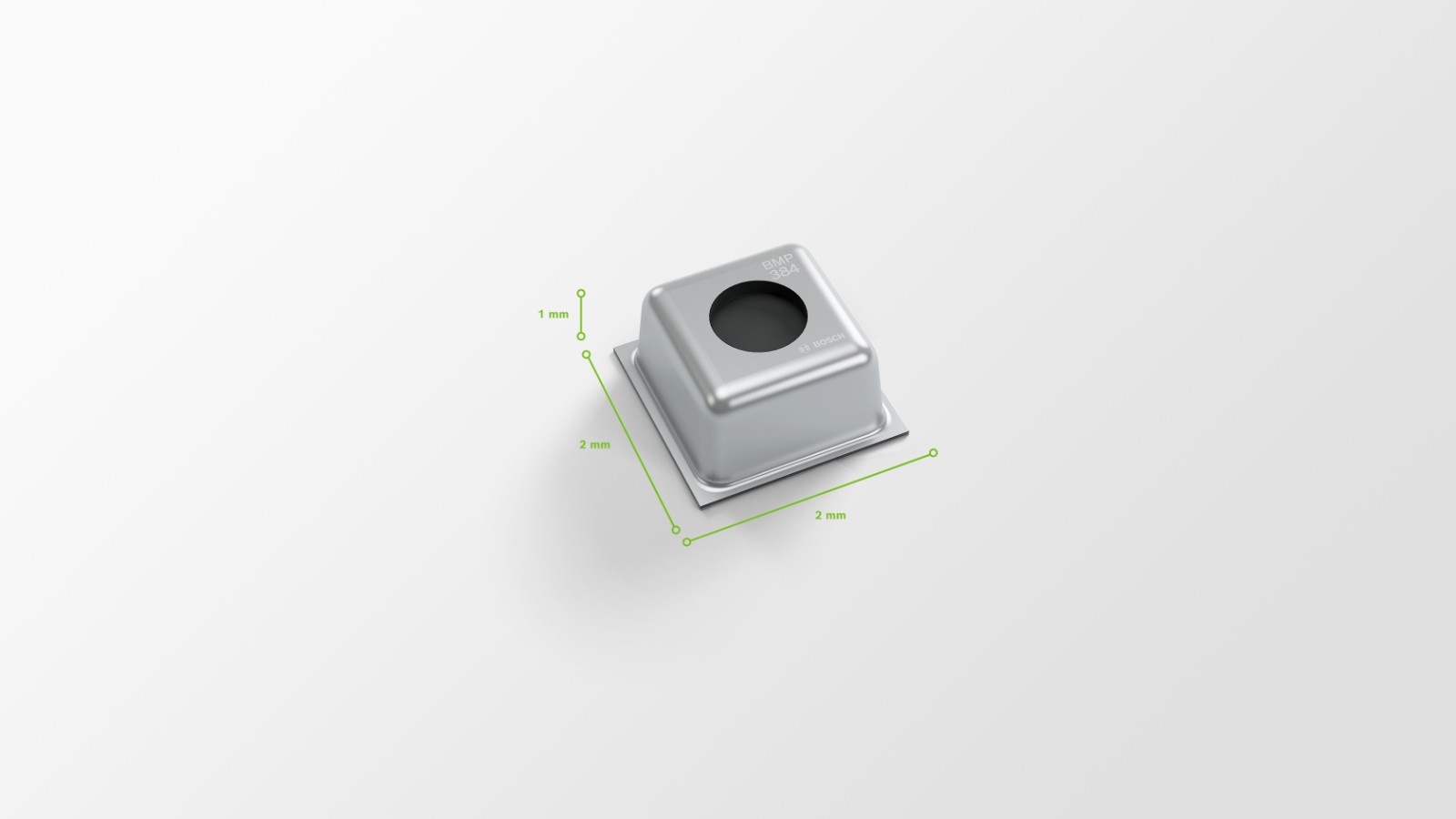 BMP384
BMP384 has a gel-filled cavity that allows higher robustness against water, liquids and other chemicals if the applicable integration concept is used. The BMP384 is perfectly suitable for applications of water-level and clog detection.