Hearables: Bosch brings smart features to your ear
Enabling new user interactions and accurate activity tracking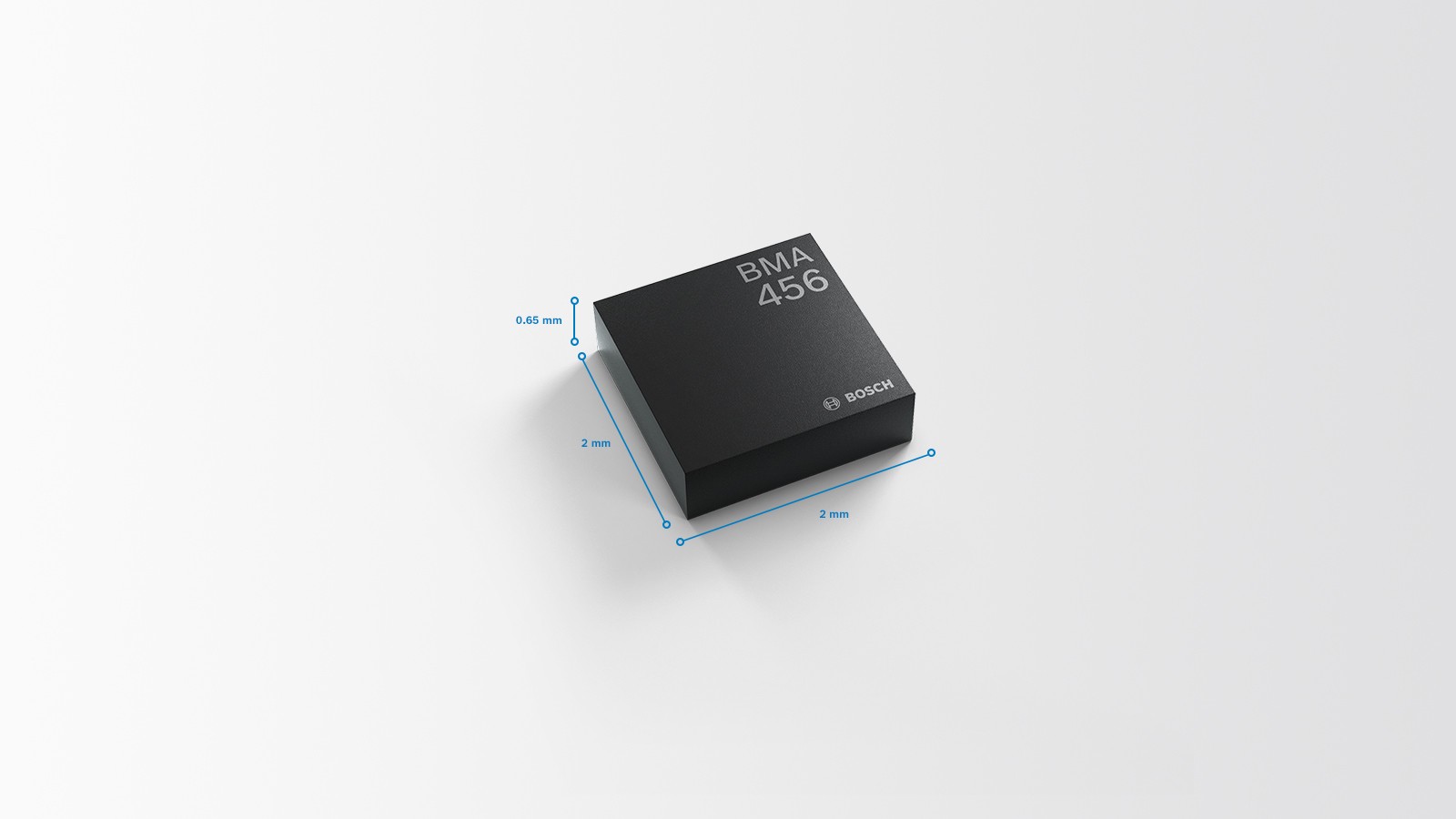 New BMA456 accelerometer variant with integrated hearable features
Low power consumption for a longer battery life
Broad portfolio of sensing solutions for the fast-growing hearables market
Visit Bosch Sensortec at Sensors Expo & Conference: Booth 331
Bosch Sensortec announces a new variant of its high-performance BMA456 accelerometer at Sensors Expo & Conference in San Jose, California. The BMA456 hearable accelerometer is the industry's only accelerometer with optimized hearable features integrated in one sensor and complements the existing BMA456 wearable variant. Manufacturers can now design smaller and more accurate hearables with lower power consumption while increasing their performance. Hearables include devices such as standard or sports earbuds, hearing aids or high-end hearables like gaming headsets.
"The new BMA456 is a great example of how Bosch leverages its experience and know-how, adapting proven wearable technologies for the developing hearables market." Hearables are a fast-growing market segment, and a major growth driver in the wearables space. Based on data from SAR Insight & Consulting, the market for True Wireless Earbuds (TWE) is expected to grow to almost 180 million units by 2023.
"Accelerometers have played a pivotal role in extending the possibilities for hearables, enabling sensing for initiating voice assistant systems, head gesture control and body movement tracking and more," says Peter Cooney, Founder and Research Director, SAR Insight & Consulting.
A broad range of hearable features
The new BMA456 accelerometer variant integrates hearable-specific gestures for intuitive user interactions such as tap, double-tap and triple-tap. Thereby, the user can, for example, conveniently control playback, manage the volume, or accept and decline calls. All of these functions are carried out within the BMA456 itself, thus eliminating the need to wake up a power-hungry application processor. These features and its extremely low height of 0.65 mm make the BMA456 a perfect fit for Truly Wireless Stereo (TWS) headsets and midrange hearables used for entertainment and in everyday life.
Another feature is power management. To limit power consumption, the BMA456 accelerometer accurately distinguishes between motion and no-motion, switching itself and the device to a low-power mode. In addition, the sensor enables low-power in-ear and out-of-ear recognition that could, for example, instantly pause playback when the user removes the hearable from their ear and set the entire system to sleep mode.
The BMA456 also includes a low-power step counter and step detector that is specifically optimized for hearables. In combination with the sophisticated activity recognition feature that detects walking, running and standing still, the BMA456 hearable variant is a perfect fit for sports and activity-tracking hearables that operate with smartphones or stand-alone.
Manufacturers can flexibly configure the default parameter sets of these features to improve the performance of their devices. The sensor's low noise of 120 µg√Hz, low offset of ±20 mg and low TCO of 0.35 mg/K further improve the accuracy of the device. Users thereby benefit from an intuitive user experience, accurate activity tracking and an extended battery life.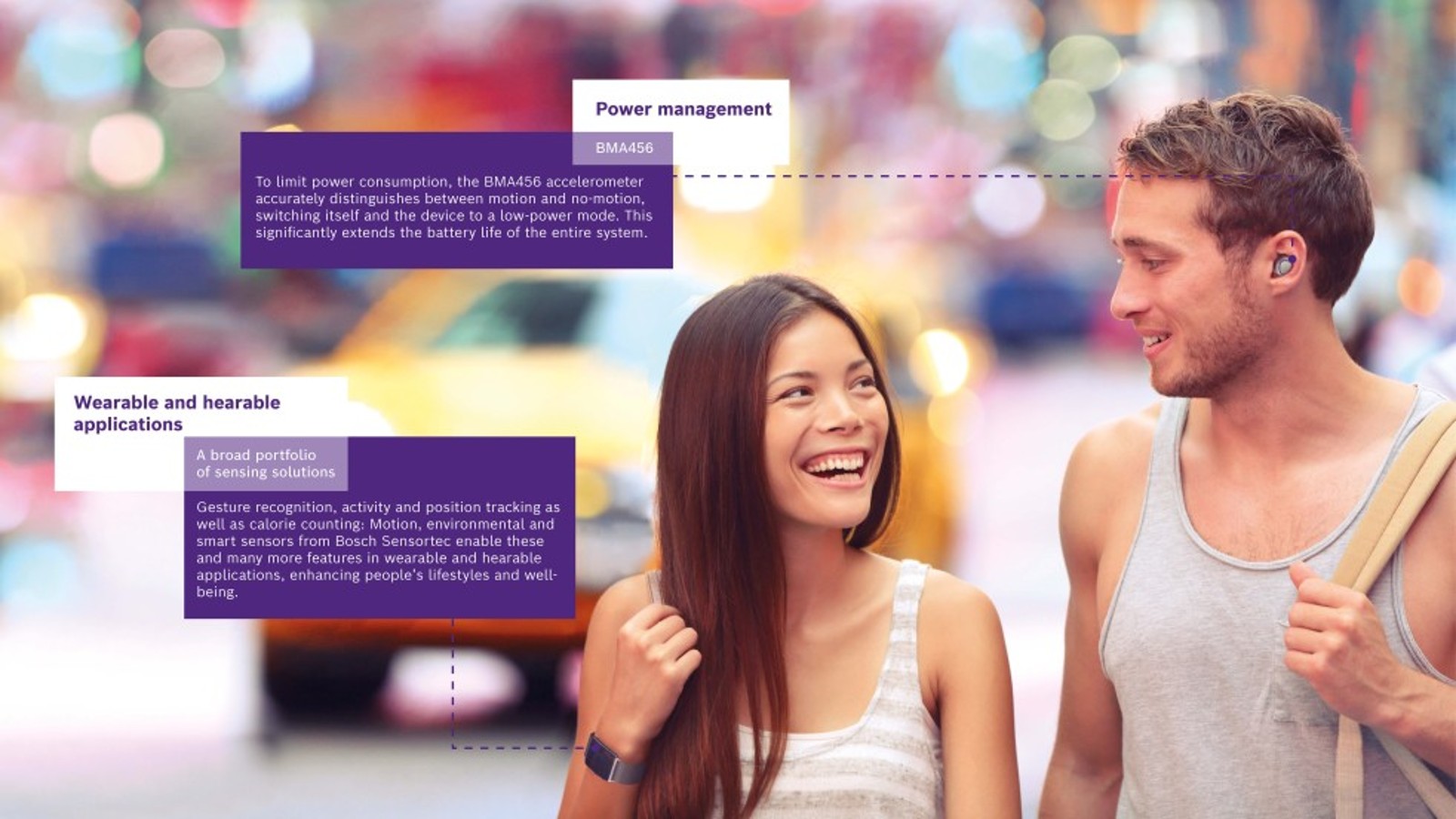 Comprehensive product portfolio for hearables
Bosch Sensortec offers a comprehensive portfolio of sensing solutions for hearables, so manufacturers can find the optimal solution for any hearable application, whether it be for sports, hearing aids, standard earbuds or high-end hearables such as gaming headsets.
The product portfolio for hearables includes accelerometers (BMA456, BMA400), magnetometers (BMM150), inertial measurement units (BMI270), pressure sensors (BMP388) and smart sensors (BHA260AB, BHI260AB).